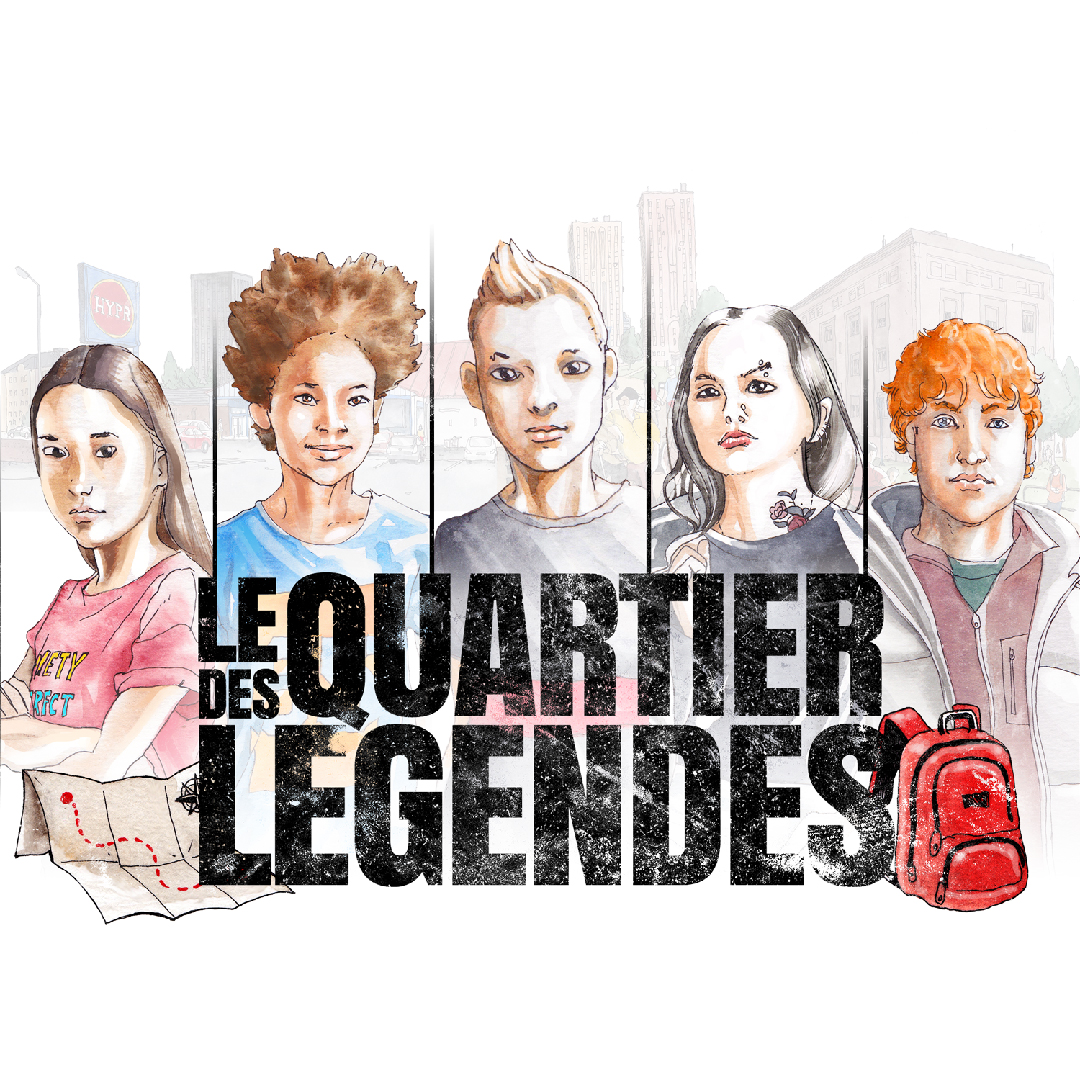 Developed in the form of a visual novel, Neighbourhood Legends tells the story of a group of teenagers whose daily life is turned upside down by the disappearance of one of their classmates.
Visual novels are a genre of video game that use mainly illustrations and text to tell an interactive story. At the crossroads between role-playing games and comic books, players make choices that influence the storyline, and they can interact with the characters to learn more about them and their world.
Visual novels are well-suited to telling romantic or dramatic stories, and can also be used to tell other genres such as science fiction, horror or comedy.
Subscribe to our newsletter and we'll automatically send you a link to play.
The Characters
It is a rather heterogeneous group that you will embody, there is:
Leo, the Karate Kid who thinks he is a superhero.

Shana, the rebel who hits harder than Rocky Balboa.

Leila, the little nerd who refuses to be silenced.

Raphael, the graffiti artist who plays the star on Instagram.

Youssef, the gamer who lives too much in the virtual world.
Youssef has disappeared, and the gang is worried
What could have happened to Youssef? He's probably playing one of those video games as usual...
The problem is that he is nowhere to be found!
Lead the investigation with your band of friends
It's time to go around the neighborhood to find out more about Youssef! A "point & click" experience is proposed to you to find him.
Rumors are flying and you have to act fast!
Gossip spread in the neighborhood will help you see things more clearly but time is running out... And discerning the true from the false will be complicated!
Partners
Neighbourhood Legends was created as part of an awareness campaign with Séraphin Alava, a researcher specializing in conspiracy theories and radicalization at the University of Toulouse Jean Jaurès.
Credits
| | |
| --- | --- |
| Conception & Synopsis | Seraphin Alava |
| Scenario & dialogues | Ronan Le Breton |
| Illustrations | Quentin Jouret |
| Graphics | Enzo Carvalho |
| Motion Design | Mathilde Doré |
| | Jean-Christophe Letraublon |
| Sound Design | Jean-Baptiste Mar |
| Programming | Clément Baille |
| | Jesse Himmelstein |
| Mediators | Rasha Nagem |
| | David Luesa N'Gando |